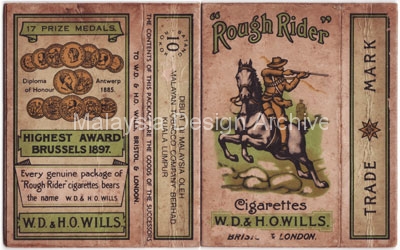 Cigarettes "Rough Rider" by Malayan Tobacco Company (1956-1976), now known as British American Tobacco.
History of Rough Rider
The 1st U.S. Volunteer Cavalry, known as the "Rough Riders," recruited by Theodore Roosevelt and largely composed of cowboys, miners, law-enforcement officials, and college athletes, achieved worldwide acclaim following America's invasion of Cuba. The unit participated in the Battle of Santiago, during which it charged across a valley to assist in the seizure of San Juan Ridge (the highest point of which is San Juan Hill). The imagery of the Rough Riders was used extensively during Roosevelt's subsequent vice-presidential and presidential campaigns.
(Source)
–
Title: Rough Rider
Language: English
Designer: nil
Type of Graphic: Packaging
Client: Malayan Tobacco Company
Publisher: –
Printer: nil
Date: 1950s
Dimensions: nil
Technique: nil
–