Written by Reita Rahim of Gerai OA
The Bidayuh are part of the Orang Ulu, the indigenous minorities of Sarawak. Classified previously as part of the Land Dayak, the Bidayuh represent only 8% of the state's 2.4 million inhabitants or approximately 190,000 individuals (Star 2010).
The Bidayuh have several dialect groups, all residing in southern Sarawak. Many are agrarians living within the districts of Serian, Bau and Lundu, but urban migration is increasingly common. Rice farming is still carried out by many families, though most no longer live in longhouses.
Despite development of their traditional lands into oil palm plantations or mixed development, the Bidayuh have managed to retain much of their culture, tradition and intangible heritage including their distinct languages, myth and stories, songs, dances and handicraft.
Bidayuh Handicrafts Today
The Bidayuh still produce many utilitarian and agrarian crafts. Basketry is made by both men and women, though many have since replaced natural materials with recycled plastic box straps which are rain durable.
Common crafts are those with high commercial value especially bamboo based crafts, which are made in large quantities in some villages. These often incorporate beautiful surface ornamentation which are created by whittling the surface of the bamboo culm with a knife.
Certain crafts, notably ritual crafts and traditional musical instruments are increasingly rare today. Surprisingly, the popular rattan and barkstrip kasah rice drying mats are now rarely produced locally as many users prefer to purchase them from nearby trading towns in Kalimantan, Indonesia.
Kg. Pichin, Serian
This large agrarian village of approximately 4,500 people is a twenty minute drive from the market town of Serian; public transport is available. Villagers here are of the Bukar-Sadong dialect groups.
Kg. Pichin specialises in the production of bamboo based crafts (under the "one village, one product" government project). Craft production is generally treated as a supplementary source of income as many villagers still rely on rice farming for self-consumption or sale. However, visitors are welcome to visit the Seni Buluh Enterprise bamboo workshop and showroom (est 1982) located within the village.
Contemporary Crafts
The following are some Bidayuh crafts marketed by Gerai OA: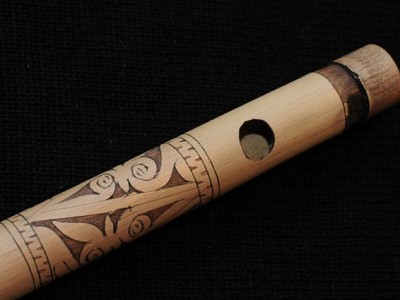 berinchoyo bamboo transverse flutes
These playable flutes are made from baloi bamboo and are played by both men and women. The upper third of the flute is decorated with buti' dawe' tiko (edible fern shoot motifs), using the bamboo whittling technique.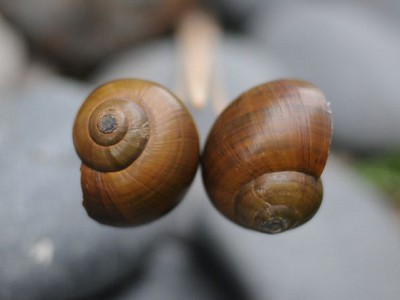 kiromboi musical 'rain-makers'
Made using a pair of edible kiromboi paddy snail shells and played with a bamboo stick, such 'rainmakers' are based on a local legend where a prolonged drought was ended when frog like calls were played en-masse.
ka-be lidded bamboo baskets
Very thin strips of buru or pasak bamboo are used for these fine, lidded baskets. There are several basket forms but only a handful weavers. Some baskets include patterns interwoven with painted strips.
pintar buloh bamboo IQ puzzle
An IQ-puzzle based on an old fashioned weighing scale, this highly ornamented puzzle is believed to have originated from outside Kg. Pichin. The object of the game is to move the pieces from one side to another.
tara simpot bamboo blowpipe dart casing
These were traditionally used to hold ma-te darts which were paired together with a simpot wooden blowpipe. These modified containers are now elaborately decorated with buti' designs.