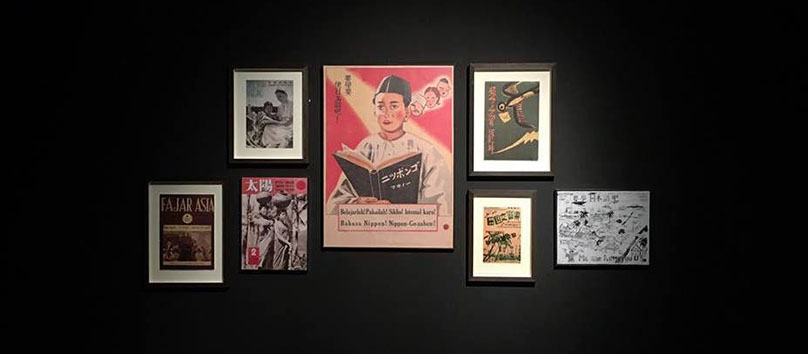 As We See It: History through Visual Design
Exhibition runs from 8 May – 30 June 2017
Balai Seni Negara, Kuala Lumpur
A timeline of Malaysia's history through the lens of graphic design. What influenced how we perceive ourselves as an emerging country? How has this changed through time? From everyday objects to propaganda posters, a closer look at graphic design reveals the shifting ideas that makes us who we are.
The story of graphic design in Malaysia follows the nation's textured journey through time. A closer look at design artifacts can reveal the different preoccupations that mark significant periods in its formation. For example, graphic design was a key strategy used by the British during the 19th century to establish its identity and the "face" of British Malaya as a powerful and expanding enterprise; while design during the Japanese occupation (1942 – 1945) underwent a period of heavy handed propaganda. British icons and symbols were obliterated, replaced by a Japanese graphic sensibility: clean strong lines, the rising sun as a recurring motif and promotion of military values. Under the pretense of liberating their Asian brethren, Japan established the 'Greater East Asian Co-Prosperity Sphere' and Malaya became a military occupied state.
After the war, the road leading up Merdeka and beyond saw an explosive development of graphic design that spoke about ideals of the nation: from merging of diverse styles, to the experimentation with typography, illustration and photography, to recurrent imageries and symbolism of the "Malayan" identity.
In the midst of this, propaganda re-emerged through highly nationalistic leaflets against the communists during the period of Emergency (1948 – 1960). The formation of Malaysia in 1963 (with Malaya, Sabah, Sarawak and Singapore as co-signatories) saw a blurring of boundaries between differences in social and cultural codes and signs, with more focused effort to bridge across apparent differences between race, gender and languages.
The story of graphic design in Malaysia is still unravelling, and through the process of archival and exploration, we are able to find out a little more about who we are, in all of our complexities.
Sebagaimana Kita Melihatnya: Sejarah melalui Reka Visual
Pameran berlangsung dari 8 Mei – 30 Jun 2017
Balai Seni Negara, Kuala Lumpur

Suatu garis masa sejarah Malaysia melalui kanta reka visual. Apakah yang telah mempengaruhi cara kita melihat diri kita sebagai negara yang kian terbentuk? Bagaimanakah ini telah berubah dengan peredaran masa? Dari objek harian kepada poster propaganda, pandangan lebih dekat terhadap reka visual mendedahkan idea-idea beranjak yang menjadikan siapa diri kita.
Kisah reka bentuk grafik di Malaysia bergerak mengikut liku-liku perjalanan negara ini merentasi zaman. Penelitian ke atas artifak-artifak reka bentuk bakal mendedahkan pelbagai kecenderungan yang menandakan zaman-zaman penting dalam perkembangannya.  Sebagai contoh, reka bentuk grafik ialah strategi utama yang digunakan oleh pihak British di abad ke-19 untuk mencipta identiti dan "wajah" British Malaya sebagai suatu entiti perdagangan yang kuat dan sedang berkembang; sementara reka bentuk grafik di zaman pendudukan Jepun (1942-1945) pula mengalami zaman yang begitu mencengkam. Ikon-ikon dan simbol-simbol British dihapuskan, lalu digantikan dengan citrarasa grafik Jepun: garis-garis yang kemas lagi jelas, matahari terbit sebagai motif dan penonjolan nilai-nilai ketenteraan yang kerap digunakan. Dengan alasan kononnya hendak membebaskan negara-negara jiran Asia mereka, Jepun mewujudkan 'Greater East Asian Co-Prosperity Sphere' dan Malaya menjadi sebuah negara yang diduduki tentera.
Selepas tamat perang, perjalanan menuju zaman Kemerdekaan dan selanjutnya menyaksikan perkembangan hebat reka bentuk grafik yang mengungkapkan aspirasi-aspirasi negara: daripada penggabungan pelbagai gaya dan eksperimentasi dengan tipografi, ilustrasi dan fotografi, sampailah kepada imejan dan simbolisme yang berulang-ulang berkenaan identiti "Malaya".
Di kala semua ini berlaku, propaganda muncul semula menerusi risalah-risalah bernada penuh nasionalistik yang diedarkan untuk melawan anasir-anasir komunis semasa zaman Darurat (1948-1960). Pembentukan Malaysia pada 1963 (di mana Malaya, Sabah, Sarawak dan Singapura menjadi penandatangan bersama) menyaksikan pengaburan sempadan-sempadan perbezaan di antara pelbagai kod dan tanda sosial dan budaya, dengan usaha lebih tegas dibuat bagi merapatkan jurang perbezaan yang ketara di antara kaum, gender dan bahasa.
Kisah reka bentuk grafik di Malaysia masih belum terungkai sepenuhnya, dan melalui proses pengarkiban dan pengkajian kita akan dapat mengetahui serba sedikit mengenai siapa diri kita, di sebalik segenap kerumitan yang ada pada kita.
–
This exhibition is a part of 'Reka Negaraku', a series of design related events happening in May to June 2017 in hopes of co-creating the future of design in Malaysia.