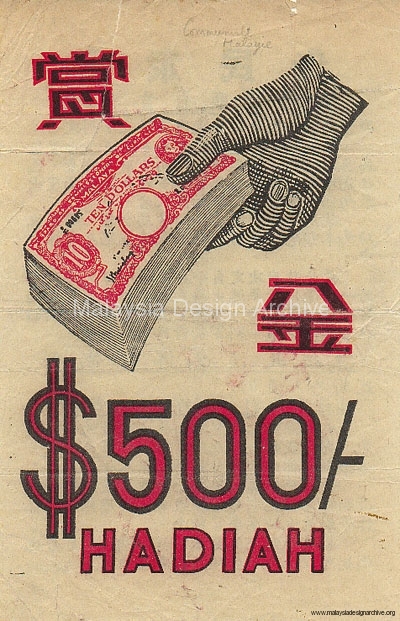 Leaflet 1658C depicts a hand holding a stack of the red 1 July 1941 "Board of Commissioners and Currency" $10 bills that were in use in Malaya before the Japanese occupation. The same image was apparently used on wrapping paper. This use of propaganda on items other than leaflets would be used again in Vietnam when the Americans would print Chieu Hoi ("Open Arms") surrender messages on shopping bags. The leaflet text is:
$500 Reward
The text on the back is:
Public Announcement Notice
Reward for Assisting Communist Terrorists to Surrender

The Federation of Malaya High Commissioner General Templer has made the following statement:

The number of youths who joined the Malayan Communist Party guerrilla organisation, and now recognise the MCP's lies and deceit and have surrendered to the government is increasing daily. However, there are still many who are in the jungle but want to come out to surrender to the Security Forces and start a new life.

The government encourages those youths to surrender to the authorities and atone for their crimes by loyally serving the nation rather than remaining in the jungle to die.

The government has decided that starting January 1st of this year, members of the public that assist an awakened youth to escape from the clutches of the Malayan Communist Party and bring him or her to surrender at a police station will receive a $500 reward. If more than one of you provides the assistance, the reward will be shared equally.

Please Pass this Information on to Others

To members of Malayan Communist Party:
This guarantees your safety when you surrender!

In order to ensure your safety in escaping from the jungle, the Federal Malayan Government will present a "Five Hundred Dollars Reward" to any member of the public that has assisted your surrender to the authorities.

Please carefully hide this leaflet on your person and when you surrender, hand it to a member of the public so that he or she can take you to the nearest Military or Police personnel.

If more than one person helps you, then they will all be able to share the reward among themselves.
(Source of text – image courtesy of Herb Friedman of psywar.org)
–
Title: $500 Reward
Language: Malay / Chinese
Designer: nil
Type of Graphic: Public Announcement
Client: nil
Publisher: Department of Public Announcement
Date: 1953
Dimensions: nil
Technique: nil
–