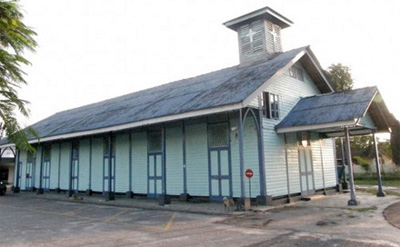 I am an old wooden church. You might even stroll past me without even a second glance. For if you look at me now, you might think I am nothing much to shout about. But I am a constant reminder of a bygone era of simplicity when the community was more important than concrete structures.
I came into existence in 1935, thanks largely to the efforts of Father Jean Baptist Souhait, parish priest of Assumption Church in Penang, and the local Christian community, after Catholics settled in the 1920s in the outlying northern areas of Butterworth.
I am made of hard treated timber that has stood the test of time and I blended in with the lush greenery all around me.
I started life as a primary school, just a few classrooms, during the pre-war years and on Sundays, the building was used for mass. A priest from the College on Penang Island would travel to the mainland to say mass before the war years. Later, towards the end of the war, a priest would cycle from the next town, Bukit Mertajam, to come and say Sunday mass here.
Those were the days when children used to come to school with three cents as pocket money. They would buy a small plate of bee hoon for one cent, and a ball of ice scrapings coated with sweet coloured syrup for a quarter cent. And they would still have change of one cent left over.
Folks were a lot more humble and simple back then: the people who flocked to me on Sundays worked as civil servants such as those from the health department and the railways, or small traders such as cloth vendors. There was even a toddy inspector! To get to me for Sunday Mass, some had to use a sampan to cross the Prai River to reach Batu Ujung and then walk up in their Sunday best.
It was Fr Adrian Devalls who blessed me during the official opening in 1938. But my pride and joy was short-lived.
On 8 December 1941, the earth shook as Japanese planes attacked Butterworth and two days later, 70 aircraft launched massive air raids on Penang Island. In the distance, I could hear the faint thud-thud-thud of bombing all around me. By 13 December, people began fleeing from Penang, as the British retreated towards Singapore. Shocked, many flocked to me and I heard their anguished prayers, entreating the Lord for mercy.
Those were difficult years during the Occupation. More bombing again in Penang in 1945 as the British tried to retake the area with the Japanese finally surrendering in September 1945. For a moment, a burst of relief and celebration but then came the dark years of the Emergency. And then again, in 1957, I heard the expectant and fervent prayers of the community as they expressed their hopes and dreams as the country celebrated Independence.
Ah yes, I have been through a lot with the community during their ups and downs. I have witnessed their joys and sorrows.
I now see around me the grandchildren of the original inhabitants and how times have changed. A culture of materialism has spread. All around me I see the trappings of 'development' and crass consumerism. Devoid of simplicity and spirituality.
What has happened to the simplicity and community solidarity of times past?
Today, like most old things and senior citizens who find themselves unwanted, I find myself feeling insecure. Will I be the next to go? How long more have I left they consign me to the ash-heap of history and spend millions to put up a 'modern' structure.
Often, I hear them say that they need better more and comfortable air-conditioned surroundings for catechism classes and meeting rooms. But I remember when I was opened, the excited looks on the chidren's faces. Things were a lot cooler then with all the greenery around them. Today much of my surroundings have been covered with concrete and tar. Why is it that modern churches think they have to be covered with concrete and tar all around them?
What do people think when they look at me? Do they ignore me, walk past me? Do they feel embarrassed when they look at me? Do they see an old building that is a nuisance to maintain? Do they feel uncomfortable when they look at me and compare me to the gleaming white concrete complexes that surround me – structures devoid of much soul and history with no tales to tell of the community around them? Or do they think a gleaming church complex would look much grander. Ah, the illusions of grandeur.
Today, when people look at me, are they reminded of an era of simplicity when faith was manifested in simple structures and the prayers of a humble community? How they respond to my humble structure tells a lot about they see their faith.
I remember Fr Belville and his cough-cough-cough as he said his mass. Although he built a bigger church next to me for the growing community next to me, I suspect he was fond of me and didn't have the heart to tear me down. Neither did the parish priests who followed him, including our Archbishop. Others even lovingly restored me.
Whenever I find my wooden structure feeling feeble and vulnerable, I am reminded that when his closest follower had deserted him, the closest thing to our Lord on the cross was the wood of the cross.
Today, I feel comforted by the thought I am still housing kindergarten classes and providing a haven for migrant workers to gather on Sundays. It is these simple people who still appreciate me. Just like, I am sure, the artisan carpenter from Nazareth who didn't have a roof on his head, would.
But how much longer do I have before someone or some committee decides to demolish me – and along with it the history and memories of a community – the only lingering trace of me being, perhaps a fading photograph on the wall of some meeting room?
Article by Anil Netto, originally published in The Herald