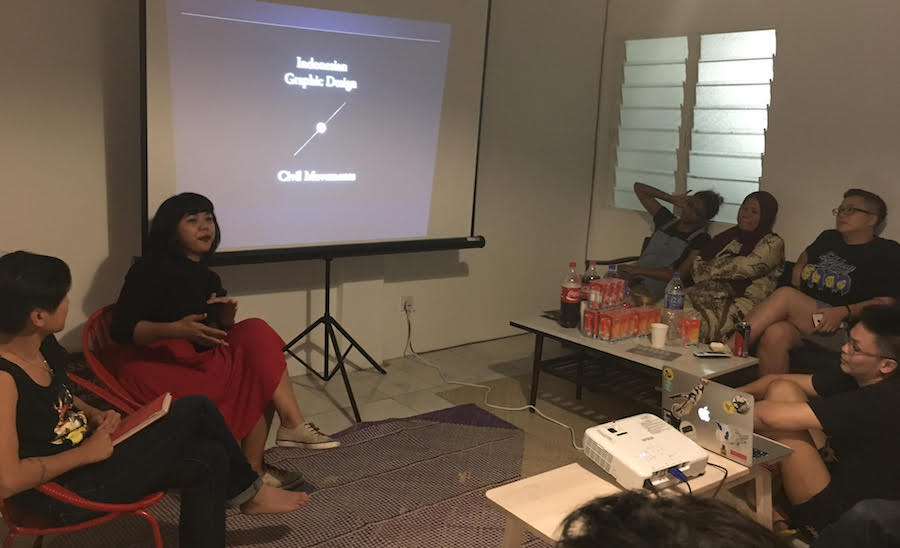 Reclaiming Territory: Reverting Indonesian Graphic Design Practices into Civil Movements
A talk by Ellena Ekarahendy
28 June 2017
Indonesian graphic design has inevitably developed from fine art into an emerging industrial practice. When creative industry is now pushed to be the facade of Indonesian future economy, the lack of infrastructures and inclusive+critical education, and the ambivalent impacts of the digital and technology access, put the practitioners into jeopardy. Not only the unfair practices in the industry, but also the violations of rights of the workers. Meanwhile, these new creative class was shaped to be the apolitical class, not only because their personal financial needs but also due to the legacy of new order regime propaganda that exclude civil society to participate in any political decisions.
Ellena Ekarahendy will share a brief historical and political background in Indonesia (and how it also affects our current habit to consume visual culture); how culture and social media now turns into a battleground to create opinions through visual culture and how the battle is going; and how some practitioners in Indonesia try to implement graphic design practices and logics within any civil movements: human rights, political participations, gender equality, etc. through various formats.
About the speaker
Ellena Ekarahendy is an Indonesian graphic designer who spends most of her time to embrace design thinking, visual literacy, and social equality in civil society through graphic design practices, zines-making, digital-activism, and collective reading room. She's currently the Chairperson of SINDIKASI (Media and Creative Industry Labors Union for Democracy) Presidium.