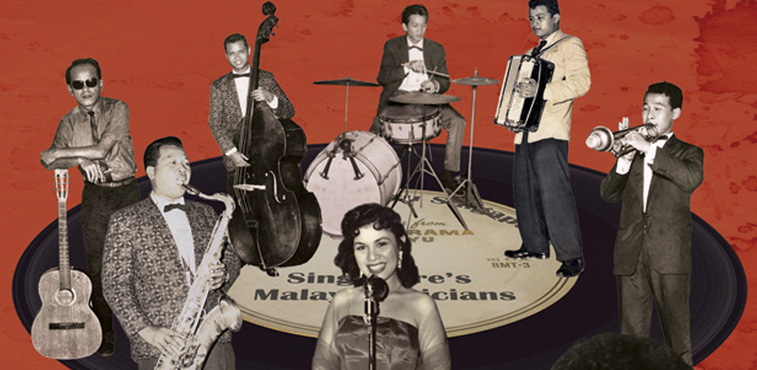 Parallel to the developments of the Jazz and Blues music in the US towards the end of the 19th century, Malay's music in that period was experiencing its vast evolvement of diversity through the Bangsawan opera's golden era. Shifting gradually with the insertion of modern musical instruments within the opera's orchestra, had simultaneously produced talented and well played musicians in the Malay World. Thus, the origin of Malay's popular music could often be traced back through its many musicians that developed since the early 20th century.
The book entitled MUSIKA – Malaya's Early Music Scene will take us to rediscover the groundbreaking artistes that had helped to shape the Malay musical heritage within the last century. Biographical pages of the artist in chronological order includes musicians, composers, bandleaders and singers portraying their early lives and struggles throughout the years.
The MUSIKA – Malaya's Early Music Scene is the first compilation of the Malaya's Early Musician reference volume which cater to anyone who fancy Malaya's music history from the 1900s to 1965.
Sejajar dengan sejarah perkembangan muzik Jazz dan Blues di Amerika Syarikat di akhir abad yang ke 19, muzik Melayu pada waktu itu juga sedang mengalami satu perkembangan yang pesat dalam berbagai corak alunan diarena zaman kegemilangan opera Bangsawan. Alunan yang pada mulanya didendangkan dengan alat-alat muzik tradisional, secara perlahan, telah disertakan dengan alat-alat muzik moden yang melahirkan pemuzik-pemuzik handalan dan berbakat di alam Melayu. Maka, asal lagu-lagu langgam Melayu sejak zaman kegemilangan Opera Bangsawan, umpamanya seperti Tudung Periok dan Trek Tek Tek boleh diimbas kembali menerusi penggubah lagu dan pemuzik yang bergiat pada awal abad yang ke 20. 
Buku yang bertajuk Musika – Arena Muzik Silam di Malaya, akan membawa para pembaca untuk mengenal kembali seniman-seniman yang telah berjasa membentuk dan juga memperkayakan khazanah muzik Melayu dalam satu abad yang lalu. Biodata yang mengikut susunan kronologi di setiap mukasurat memaparkan para seniman termasuk Pemuzik, Pengubah Lagu, Ketua Pancaragam dan Penyanyi yang menceritakan kisah-kisah pahit manis mereka berkecimpung dalam dunia seni. 
MUSIKA – Arena Muzik Silam Di Malaya adalah satu kompilasi biodata pemuzik di Malaya yang pertama kali di usahakan dalam bentuk buku untuk para pembaca yang berminat akan sejarah muzik di Malaya yang berkembang pada tahun 1900 ke tahun 1965.