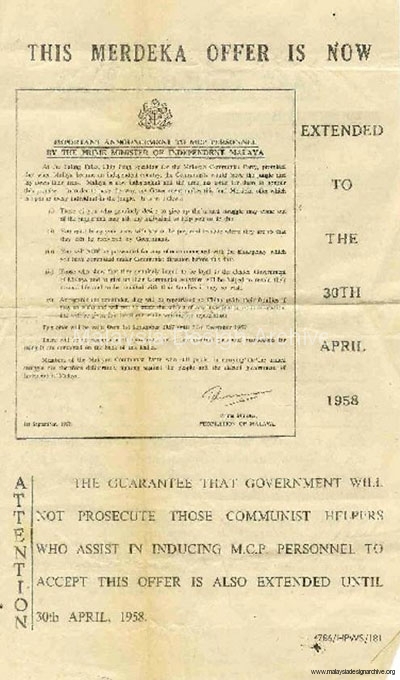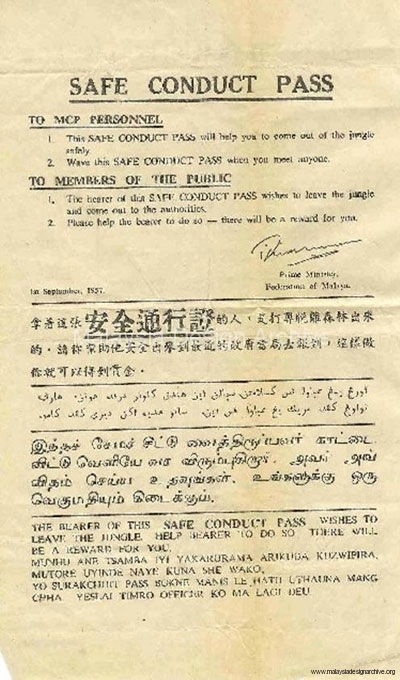 Leaflet 4786/HPWS/181 is a two-sided Merdeka amnesty leaflet. The code "HPWS" stands for Head, Psychological Warfare Section. On the front it depicts the letter to the insurgents at left signed by the Prime Minister, Tunku Abdul Rahman, and the English language text along the right side and bottom reads:
THIS MERDEKA OFFER IS NOW EXTENDED TO THE 30TH APRIL 1958.

ATTENTION

THE GUARANTEE THAT GOVERNMENT WILL NOT PROSECUTE THOSE COMMUNIST HELPERS WHO ASSIST IN INDUCING M.C.P PERSONNEL TO ACCEPT THIS OFFER IS ALSO EXTENDED UNTIL 30TH APRIL 1958.
The back of the leaflet features a safe conduct message in English and the three main Malay languages. It is:
SAFE CONDUCT PASS

TO MCP PERSONNEL
1. This safe conduct pass will help you come out of the jungle safely.
2. Wave this safe conduct pass when you meet anyone.

TO MEMBERS OF THE PUBLIC
1. The bearer of this SAFE CONDUCT PASS wishes to leave the jungle and come out to the authorities.
2. Please help the bearer to do so – there will be a reward for you.
(Source – image courtesy of Norman Doctor of psywar.org)
–
Title: THIS MERDEKA OFFER IS NOW EXTENDED TO THE 30TH APRIL 1958
Language: English / Chinese / Tamil
Designer: nil
Type of Graphic: Aerial Propaganda Leaflet
Client: nil
Publisher: nil
Date: 1958
Dimensions: nil
Technique: nil
–