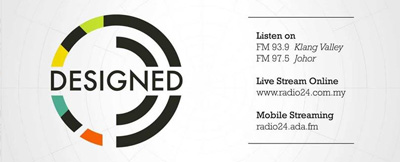 DESIGNED is a radio talk show, presented by Vivian Toh and Gerard Ratnam taking you on a journey to discovery of all things designed – from how design came to be to why it was designed.
Is something designed because there is a need for it? Or is it designed for mass consumerism? When the local people buy into advertising or companies start to believe in the power of branding, how will it impact the roles of designers?
CUTOUT and Bernama Radio24 are teaming up to create the DESIGNED radio talk show in association with Malaysia Design Council (MRM).
You can hear the shows starting 16 October 2013, on Wednesday nights from 9.15pm to 10pm on Bernama Radio24 93.9FM, and you'll be able to meet the team as they go along on roadshows, all dates and locations will be announced soon.
Each show consists of a forty-five minute dialogue between the presenters and guests from both the public and private sectors. The topics will be about current developments, challenges and opportunities at the cutting edge of industry.
Live on air starting 16 October 2013 on Bernama Radio24 93.9FM