Crafts of the Hma' Meri
Written by Reita Rahim of Gerai OA
The Hma' Meri (or more commonly spelled 'Mah Meri') are part of the Orang Asli, the indigenous minorities of Peninsular Malaysia. The Orang Asli constitute less than 1% of the Malaysian population.
Also known (especially in older literature) as the Hma' Btsisi', they are coastal dwellers and fishermen, residing mainly on estuarine islands near Port Klang such as Pulau Carey, and around Tanjung Sepat, along Selangor's southwest coast. The Hma' Meri are grouped under the Senoi sub-ethnic group and number only 2,896 (Jheoa 2003).
Despite rapid development of their traditional lands into oil palm plantations and mixed development, the Hma' Meri have managed to retain much of their adat (culture, social mores and traditions) as well as their intangible heritage including their distinct Btsisi' languages, myth and stories, Jo-oh songs, dances and handicrafts.
Hma' Meri Handicrafts Today
The Hma' Meri still produce limited utilitarian and caremonial crafts, though the former is endangered due to chronic shortage of raw materials. Ornamental leaf weavings which feature in most adat ceremonies are made from nipah palm fronds and shoots (nipa fructans).
Woodcarving, although renown, is only practised by less than thirty men in Kg. Sg. Bumbun on Pulau Carey. Some Hma' Meri women still weave baskets, mats and pouches from cultivated screwpine (pandanus spp.).
Certain crafts, especially those associated with swiddening (shifting cultivation) are exceeding rare as hill paddy is no longer cultivated. Other rare crafts include bamboo blowpipes (blau) and musical instruments.
Kg. Sg. Bumbun, Pulau Carey
This village of three hamlets and less than 500 people is an hour's drive from Kuala Lumpur. Located on Pulau Carey, this estuarine island is accessible by car. Kg. Sg. Bumbun has a small tourism center, several woodcarving workshops and a pandanus weaving workshop.
Craft production is generally treated as a supplementary source of income especially for those who own oil palm smallholdings. However, visitors are welcome to visit the different workshops located throughout the village, especially the Tompoq Topoh women's workshop.
Contemporary Crafts
The following are some Hma' Meri crafts marketed by Gerai OA: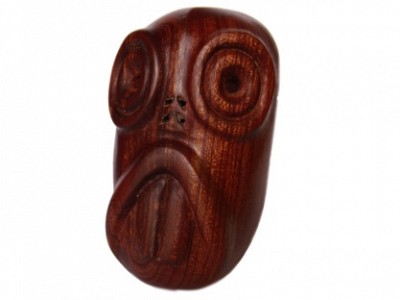 topeng muyang wooden masks
Full faced masks were once made from lightweight pulai (alstonia sp.). Today large and miniature masks are made from red heartwood of the nyireh batu, a mangrove tree. These depict ancestral or forest spirits. Some have articulated mouths and eye holes, but all have accompanying tales.
potong muyang woodcarvings
Since the 1960s, these were carved from nyireh batu and are essentially three-dimensional depictions of traditional tales (chita' muyang). Traditional healing figurines are extremely rare and only made during rituals.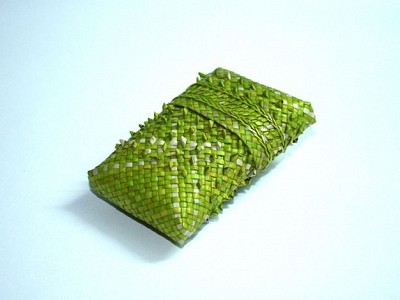 bujam lipo' pandanus pouches
The hold all pouches traditionally housed tobacco and betel quid. They are of varying sizes, often decorated with pandanus curlwork embroidery and elaborate open work handles; these take three days to weave.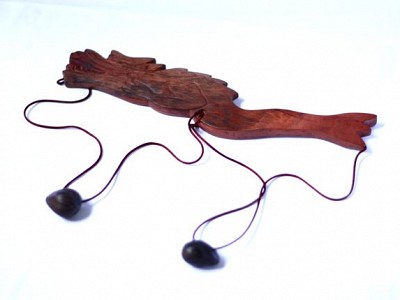 tali jodoh marriage puzzle
This plain wooden puzzle has been updated with various whimsical carvings  and satin string. Such puzzles were once played by the groom during the first day of their traditional three day wedding ritual.
tanda buku pandanus bookmark
Derived from the traditional handles of the bujam lipo' pouches, these open work pandanus weavings were first produced in 2007. There are now more than ten variations of the openwork design, including alphabets!