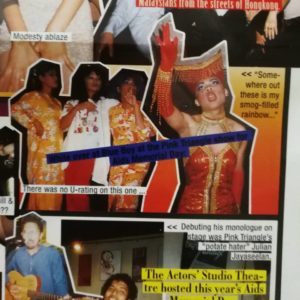 Al-kesah. The story of boom town 1990s KL would not be complete without the colourful personalities that populated a thriving queer scene. Former nightlife paparazzi Yee I-lann (today a successful photomedia artist) roamed the streets of KL, visiting girls night out at the Boom Boom Room as well as the classic boy love institution The Blue Boy.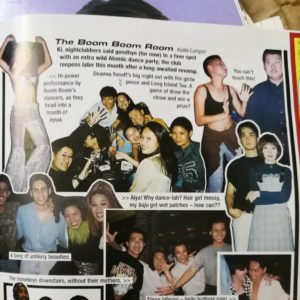 Some of these fleeting moments were captured in photographs that eventually got published in tabloids like 'etc magazine'. But it wasn't all just a big party, HIV was looming on the horizon and friends and new found families were succumbing to AIDS. The organisation Pink Triangle took to the streets to educate the larger population about the disease that was claiming the lives of closed ones. A community was coming into being out of silence and invisibility.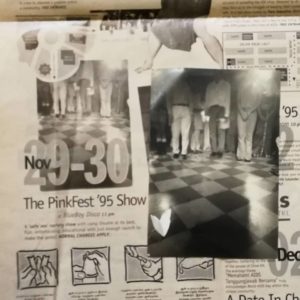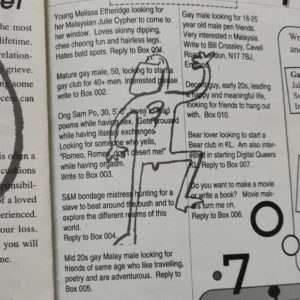 Elsewhere in the back pages of a Pink Triangle newsletter, one finds moments of intimacy in its classifieds ads. The search for love came in all stripes – from bondage mistress to a sex and poetry companion to a Malay youth in search of adventure and freedom. Clearly the queer community that was coming into being was inclusive enough to accomodate different forms of love, intimacy and wit.
Arkib Stories by Simon Soon.