Who builds the nation? We are often celebrating the iconic father figures of the nation: Bapa Kemerdekaan, Bapa Pembangunan, Bapa Pemodenan and so on. We read about them in our history books, and are reminded of their role and leadership on all manner of occasions. But what about those who are less visible in our recognition and celebration?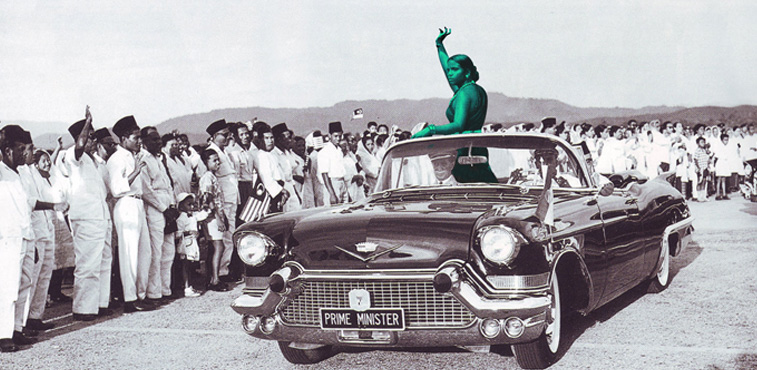 This exhibition is a collaboration between Malaysia Design Archive and Sisters In Islam for Art For Grabs, and aims to challenge our usual ways of seeing leadership and nation building. Instead of the familiar face of Tunku Abdul Rahman in the heart of images that represent the spirit of Merdeka and nationhood, we are confronted with the lesser-known faces of ordinary women in our history. They range from a woman who is simply lining up to purchase national bonds, to a woman in a postcard, to a radio programmer to a teacher. The photographs are selected from archive images from the 1910s to 1960s, and are collaged onto the Tunku images.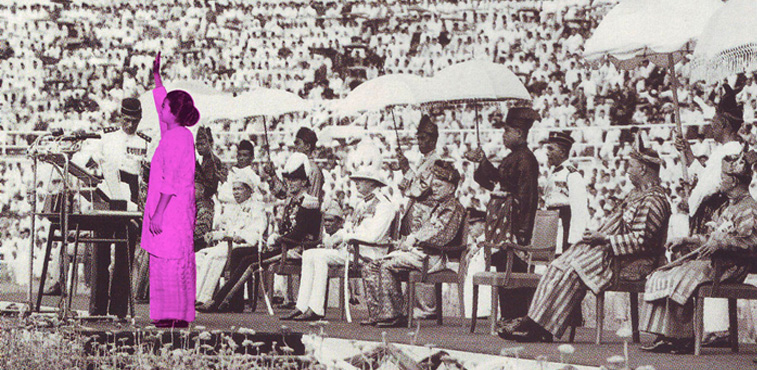 A newspaper article in 1987 headlined a quote from Tunku, "A woman could lead the nation." By placing ordinary women in the forefront, this exhibition hopes to make us think about the role of women in all of our diversity in shaping the nation, not just those who participate actively in political processes. In the process, the images aim to provoke curiosity and discussions about our own roles and responsibilities – and to take a moment to reflect on each of our own significant contribution. This exhibition is a celebration of the diverse women who helped build our country, as well as a playful nudge at our usual ways of seeing things.
Apa kata? How does this challenge our imagination of what is possible?
Postcards are available here online at RM10 per set (4 in a set) or RM20 (7 in a set). It's also available at the Sisters In Islam's office. Please add your address with your payment.

[paypal_button]