There is a bit of a frontier edge to Tuaran, Sabah. Snooker parlours continue to be a meeting point for many men in the small town. These are in essence, a bustling working class homosocial space, where a kind of genteel machismo plays out through a game of post-lunch billiards, to help while away the hours.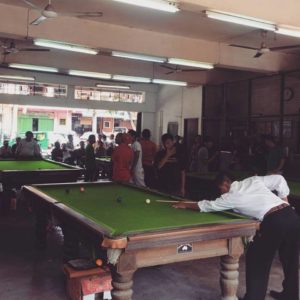 Tuaran is perhaps better known in Lonely Planet for its nine-storey pagoda, the tamu (a traditional market), the nearby Bajau stilt village that extends out towards the sea, or its most famous gastronomic offering, the Hakka Mee Tuaran. But it is the snooker parlour that stands out as an institution. This is not entirely unique to Tuaran, and a game of billiards was once a common past time once in many small towns. One also sees this in the many films of neighbouring Taiwanese filmmaker, Hou Hsiao Hsien, who captured a very similar sensibility and social space in 1960s Taiwan.
Leisure and work are really two sides of the same coin that gives us a picture of modern life and culture. The experiences of leisure, in turn, offer us a glimpse into the social expectations and rituals that shape a community. Tuaran has the feel of a cowboy town. Its male bonding ceremonies are visible through a series of often times complex and intricate dance of bodies around the billiard tables, as well as the layout of those tables in a hall that opens out to the view of passer-bys.
.
In a sense, this type of friendship among men plays out in the open. In turn, values of camaraderie shape a public culture of masculinity belonging to a specific socio-economic class. A moment of tenderness strikes the viewer and blankets the cacophony; one might suddenly see the afternoon congregation in a different light.
.